beim Wia´zhaus Putzer

GENUSSAUTOMAT
Wir verwenden zur Befüllung unseres Genussautomats ausschließlich heimische Produkte. Auch wir leisten unseren Teil zur Nachhaltigkeit, daher wurden die meisten Produkte/Speisen in wiederverwendbare Gläser abgefüllt.
Gulasch
Gulaschsuppe
Gulaschsaft
Flecksuppe
Schwammerlsuppe
Heidensterz
Hühnersuppe mit Bröselknödel
Brüstl
Speck
Hauswürstl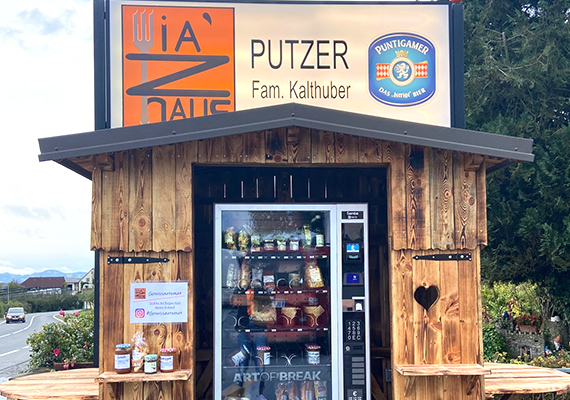 Weitere Produkte wie Honig, Kernöl, Schokolade, Marmelade, Nudeln, Sugo, Jausenpaket, Salanetti und mehr von heimischen Partnerbetrieben sind natürlich auch in unserem Genussautomaten zu finden.
Für eine abwechslungsreiche Befüllung werden die Produkte natürlich der Saison angepasst.
OLM-BAR beim Absetzwirt

GENUSSAUTOMAT
Dieser "Kraftspender" auf der "OLM"  beinhaltet  diverse Getränke, Würstl, Kaffee, und einiges mehr.
We are proud
to serving for you
Testimonials

what people say about us
I loved your cuisine, ambience and service! A combination of al these elements is perfect here. I visited the restaurant with my friends and I was amazed by its interior and rich menu! Thanks for your great job! Your desserts are awesome and very lovely. Nulla tincidunt euismod justo, non laoreet tellus maximus dapibus. Praesent porttitor ante ac mattis volutpat.
Totally stunning atmosphere and friendly personnel! I'm amazed with your menu positions and meals taste! Thank you for your professional attitude to your work and for your attention to details! Perfect restaurant! Me and my family will definitely visit your again.
I'm new in the city and I was recommended to visit Dishlish by my friends. I'm very grateful for this recommendation! Great cuisine, fast service and extremely stylish interior - that's all I love in restaurants! I appreciated your serving and your professional staff.